Transport
The Coonen Nursery makes use of various transport companies. Every day our plants are transported within the Netherlands. In addition, we make use of various transporters who travel to European countries such as England, France, Denmark, Italy and Germany. Our warehouse is equipped with a docking shelter, so that the plants can easily be loaded. In addition, there is a collection hall, which can be used if loading is done outside opening times. For more information about transport possibilities, please contact us.
Price tags
With our own label printer, we have the possibility to print price tags for our clients. Each tag can be custom-made. This means that before they are dispatched, the plants can be provided with a price tag with the correct information (such as the name of the plant, size of pot, price and barcode). After purchase, the client only has to place the plants in the sales space!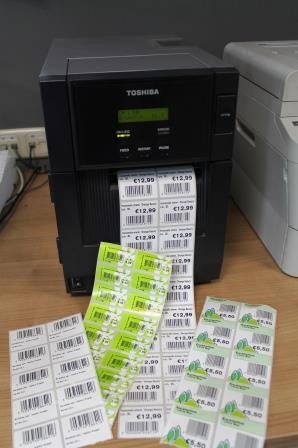 Label printer with various types of stickers
Click-on labels
The majority of our plants are provided with click-on labels. These labels are clicked onto the pot and give batches a very tidy, attractive and uniform appearance. The labels are provided with a product photo and on the back symbols and information in English, French, German and Dutch.
CC-trolleys, pallet boxes and Multi-layer boxes
The plants are transported on CC trolleys or in pallet boxes. A few years ago, we started using multi-layer boxes. For clients who do not use CC trolleys, the plants are stacked in pallet boxes. Now increasingly often use is made of multi-layer boxes. The advantage of this is that the plants are transported upright and so less damage occurs to the plants.